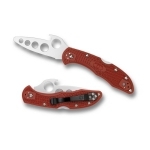 -Price Paid: $34.00
-Used for Other
-Owned for Greater than 1 year
Comments:
Nice training knife, it simulates the feel and weight if the Delica. Also a safe way to practice using the "wave" feature. A good training blade to train as a generic folder. One caution, while practicing take-away drills you can catch your hand on the wave.
---
Comment by Mark 03/15/2015
Have you thought about possibly buying a regular Delica 4 Wave and rounding the edge and tip? This would accomplish the same thing and you can find Delica 4 Waves pretty much everywhere.
---
Comment by Ian Larson 03/07/2015
Hello Mr. Bob Damon,My name is Ian Larson, I am a 3rd degree black belt in martial arts and I have taken up knife training over the last couple years. I loved reading your review about the Delica 4 Wave trainer. I Love the trainers and how they mimic the real counterpart Blade.I currently carry an Endura 4 wave, and a Delica 4 Wave knife. I found a Endura Wave 4 trainer on Ebay, however I cannot find a Delica 4 Wave trainer. I have been looking on numerous websites with no luck. I know that the wave trainer for both models is discontinued, but I still see some around here and there.Do you know of anyone who has a delica 4 Wave trainer or a online store that would have one for sale?