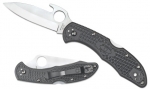 -Price Paid: $55.00
-Used for Every Day Carry
-Owned for 3 months
Comments:
I have a thing for the Delica, being it the 4th gen now I do see it as a great folder with EDC concept in mind. I like the thinness, it is a great slicer, the ambidexterous pocket clip, VG10 steel which I like because it is easy to sharpen, and fairly held it edge.
I am collecting Delicas, and pretty curious about the Emerson opener. Thats why I bought this knife.
While it finally answer my curiosity for the Emerson opener: I find myself disliking this wave feature. Sure, it is fun to play with, but I am still quicker opening my knife without the wave. when taking it out my pocket, I have to be very cautious. and most of the time, I prefer not to open it using the wave.
But this knife, still a Delica and I am happy to put it in my collection.