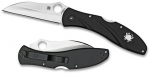 -Price Paid: N/A
-Used for Light Duty/General
-Owned for 6 months
Comments:
Ah the wharcliffe blade profile. Very attractive, no?
Build Quality:It's made of relatively slick frn, which is not great for grip retention. However this knife is marketed as a gentleman's knife, something of quality and performance, not down in the dirt cutting drywall. The blade comes with a nice, thin stock and hollow grind, making it easy to sharpen (especially with the blade profile). The lock inspires confidence, and the little palladium accent is very nice.
Ergonomics: The handle feels somewhat similar to a Delica 4, slightly different I suppose. There is nice, sharp jimping on the spine, and the clip and draw of the knife is perfect. It's excellent in this regard. Watch your fingers, there's no choil on this one.
Value: About the same price as a Delica 4, the knife adds a bit of length, thinned out edge and a fancy decal. I think it's an excellent bargain at the price, which many Spydercos are, but the Delica is a better deal. That being said, a nice wharncliffe lockback that is sure to impress and slice like a champion is well worth the cost.
Overall: Buy this knife if you like wharncliffe blade profile, and plan on opening more mail than batoning through a tree with it. If you think you will like it, you will.