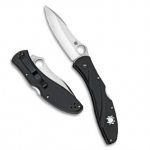 -Price Paid: $55.00
-Used for Every Day Carry
-Owned for 1 year
Comments:
Size and light weight make it a great edc knife, while people won't be afraid when you get it out of your pocket. nice steel, can be really sharp, thanks to the good steel, by te way well heat treated, and the thin blade. a gentleman's knife for sure, not meant for hard work at all but really efficient. easy one hand opening, well sized spyderhole. nice detail : the steel made spyderco logo, looks great. good retention for the clip, but could be a bit agressive with fragile cloth
the cons : poor grip, no screws to open/adjust it, but rivets.
very comfortable to carry, nice look and good cutting abilities make it one of my favorite edc.