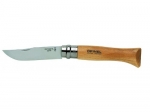 -Price Paid: N/A
-Used for Light Duty/General
-Owned for 6 months
Comments:
Sorry about my incorrect English.
This knife as some pluses compared with the standard version (wood handle):
- thick partially serrated blade (inox)
- 4mm-10mm shackle key
- 110 decibel survival whistle
- plastic handle
The wood handle could swell (when wet) and you can't open the knife, so this is the reason why this version has the plastic handle (also a better grip).
The locking mechanism is the virobloc: it is locking collar that fixed the blade when turned. You need both hands to open and to lock the blade. The mechanism could lock the knife also when it is closed.
This is a good knife that is more useful and practical compared to the standard wood version but less fascinating (and historic).
---
Comment by Federico 07/31/2014
My review is for outdoor model with plastic handle (not classic wood handle)