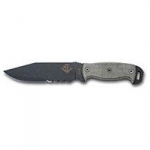 -Price Paid: $86.00
-Used for Outdoor/Survival
-Owned for Greater than 1 year
Comments:
This is the biggest knife I own. It is a very large knife, to be honest more knife than I need. If you lived in mountains wilderness, this would be the knife for you.
It has a very thick blade 1/4 in. with a convex edge,5160 Steel, micarta scales.
I wish the scales were contoured, or thinner, it just feels so bulky in your hand. Fit and furnish not perfect but nothing to get upset about. All in all I love this knife, unfortunately it's just not practical for were I live, and the places (State parks, Nature preserves) I visit. It is such a large knife, that it would put people off.