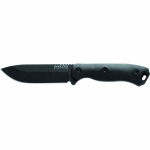 -Price Paid: $80.00
-Used for Outdoor/Survival
-Owned for Greater than 1 year
Comments:
The Becker short drop point (BK16) is an American made knife that is manufactured by KaBar. It comes with a Cordura molle sheath in coyote brown with a small pouch on the front which is made in China. The knife also comes with two sets of nylon handles, black and coyote brown. Mine arrived pretty sharp, but not razor sharp.
The knife is made out of 1095 Cro-Van steel and measures 9" in length overall with a 4 3/8" blade that has a flat grind that comes into a drop point. The handles can be removed and wrapped with paracord and you can also purchase separately a set of Micarta handle slabs for around $35 from KaBar.
The entire knife has a rough coating on it that reminds me of a truck bed liner. There are videos on YouTube that show you how to remove the coating if you don't like it. I haven't done this but I am planning to.
I've had this knife for over a year now and it's becoming one of my favorite knives to bring hunting, camping, or doing general bushcraft. It's a little small for batoning but it does work. The knife feels solid and sturdy as I'm using it and it hasn't let me down yet. The grip is secure but it can get a little slippery in wet conditions. Replacing the handles with paracord or the Micarta handles will solve this problem. The top of the blade has few notches in it for your thumb when you need to do any detailed work.
This knife has gutted several deer, cleaned turkeys, and all sorts of small game. I've used it to make hunting blinds and temporary shelters as well. I'm very satisfied with this knife and I'm not looking to replace it any time soon. The blade takes and holds an edge surprisingly well but it can rust if you don't take care of it.
I like the sheath. I am a fan of molle gear and this works great. The pouch is large enough for a pull through sharpener and a magnesium fire starter, which is always in mine. The sheath can be set up in several configurations depending on your needs. It also has two snap loops to hold the handle securely in place. I've worn mine on my belt, on a drop down thigh rig, and inverted on a vest and suspenders. It's never come lose. It gets the job done.