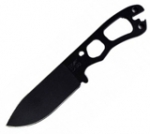 -Price Paid: N/A
-Used for Light Duty/General
-Owned for 6 months
Comments:
The factory edge on this knife was just atrocious; only decently sharp, the symmetry of the grind was laughable at best. Half an hour on sandpaper fixed this for the most part, but there is still a tiny section towards the tip that was ground so steeply by the factory, that even my convex reprofile failed to take it out. I've also seen many photos of this knife wherein the stamps on this knife were so poorly placed that as much as half of the stamps were missing, having been ground off from the blade. Mine, however, was fine in that respect. Build quality aside, it's a damn fine knife. Perhaps just a tad on the heavy side for all-day neck carry, but that's just me. Ergo-wise, the handle may be a bit short for some and it might take a fair bit of experimentation to get a paracord wrap setup that works for you. I opted for a gutted cord wrap, as I don't like bulky handles.
---
Comment by joe gockel 04/09/2013
This is one of the best knifes i own.It didn,t come with handles so i bought some.I gutted and skinned my deer with it stayed sharp through it all.Great knife.