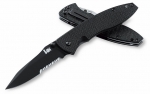 -Price Paid: $93.00
-Used for Every Day Carry
-Owned for 3 months
Comments:
Hear me out on this. It has a good blade geometry for stabbing through whatever needs to be stabbed through. It has an alright steel but nothing especially spectacular. The handle is flimsy. The serrations are good. Blade came sharp and centered. Good lock up at about 40% and doesn't stick when disengaging. Very light knife and good for small hands or those who are looking for precise cuts.
Onto the bad. For the price, there really are better options. The G10 is slick. The black coating from benchmade notoriously comes off to easy with real use and this knife is no different, which leaves the knife looking pretty bad pretty quick. Ther was a small amount of horizontal blade play. The nitrous assistee opening is literally the worst assisted opening mechanism I've seen, and that includes cheap Chinese knock offs. I'm comparing to zero tolerance, kershaw, protech, gerber, and the other assisted opener by benchmade. The knife just doesn't feel sturdy and doesn't feel like it's made for rough use.
Now after saying that, it looks cool and stabs through cans and cardboard better than any knife I've tried and it keeps an ok working edge for awhile despite real usage. It takes a very good edge, easy to get razor sharp. I'd only suggest this knife for light use or to stab an attacker in the middle of the night, and for those two things, I think it would serve quite well. It's up to you if you want to spend 90 bucks on something that performs not much better than something that costs much less. If you want to go ahead and buy one, look me up and I'll sell you mine, scratched up crappy black coating and all.