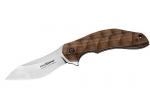 -Price Paid: $135.00
-Used for Every Day Carry
-Owned for 3 months
Comments:
I have to tell you I'm from Italy (so you understand the atypical price and the strange English).
This FOX ANSO FLIPPER isn't only a trendy knife but is a well-done EDC with very good value.
The flipper opening mechanism works very well, you could easily open the knife with a gentle movement of your wrist.
The blade is made of a good steel (N690Co), flexuose and 9 cm (3,5")long; it looks like a dinosaur claw. I have the one with pallissander handle that i love for the cool prehistoric look.
This isn't only for collection, use this knife and you will not regret it.