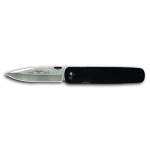 -Price Paid: $170.00
-Used for Every Day Carry
-Owned for 6 months
Comments:
I got this knife mostly because of its size. Most Emerson knives are somewhat large, which is great for some situations but i dont feel is ideal for every day carry in city life. At 3 inches this blade seemed like what I was looking for in most everyday carry situations. However don't let the "mini" in its name fool you. The blade is a little shorter but this knife is just as think and shares many of the same features as the larger Emerson knives.
The handle on this knife is made from G10, which i really like. it is really stong and is very grippy. It has a titanium liner lock. The other liner is made of stainless steel. Some people have complained about Emerson's liner locks. I have not had any problem with mine. it locks up nice and tight and feels very strong. Be warned though, many Emerson liner locks have a break in period where the first week or two it might be dificult to disengage the lock. The pivot on this knife, like all Emerson knives is very large which seems to be bery strong. The shape of the handle doesnt give it the best ergonomics. Every Emerson knife i've held has had exceptional ergonomics and while this knife does not have the best ergonomics, it is still way above average. It is very comfortable in my hand.
The Knife blade is 154cm steel. I feel this is a good steel for a more utility knife, which is what I would use this knife for. It doesn't get quite as sharp as some of the higher end steels but still gets pleanty sharp. mine was very sharp out of the box. I would not say that it has great edge holding ability but definitly above average. The chisle grind of this knife is something that you might have to get used to. the blade edge is not in a v shape, but is cut like a chisle as the name would imply. This however I feel makes the knife easier to sharpen. It took me a little while to get used to sharpening the chisle shape, but once I did I found if every easy to do.
Emerson knives to some people seem to feel a bit thick for thier hands. And this knife is thincker then most. The blade is .125 inches thick which makes it very strong.
I got my blade with a stonewashed finish which I would highly recommend. Not only do I think that it looks the best, but some of my other Emerson knives finishes have gotten scratched, this finish has not.
This knife is not for everybody. I would probably not recomend it as a first knife. If you are looking for a pure cutter I would probably not recomend this knife. It can get the job done but there are better choices out there. If you are looking for a good strong knife for a wider range of uses such as stabbing, prying (which should never do with a knife). Then there are very few knifes I can think of that would be better then this. This is a very tough knife. I have no worries of it breaking no matter how hard I abuse it. If thats what you are looking for then this is a fantastic knife.