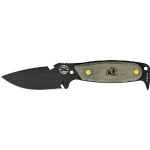 -Price Paid: $98.00
-Used for Light Duty/General
-Owned for 1 year
Comments:
First of all, there are two different DPx Original knives are available. One is made by Ontario, I bought it over a year ago. It is dull from the box, slippery handle, so-so blade coating. I sold it right away, because it frankly hated it.
Six months later I found out that there is another Original on the market - made by ROWEN. I bought it, I am very happy with it still, six months later.
It is day and night compare to Ontario. Rowen has top quality manufacturing process. Blade is shaving sharp, beautiful blade coating, fit and finish are just great. I am enjoying it all the time.
Rowen's heat treating process is amazing. 1095 steel holds an edge and it's easy to resharpen it.
On another hand, Ontario missed the boat with its quality control. I wouldn't buy any Ontario knives. But I already bought three Rowen made ESEE knives - Izula and 4 and 6. Love them all.
I would rate just Ontario DPx Original knife for no higher than 3-4, Rowen's DPx is easily 9-10. That's my opinion.