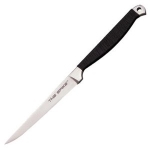 -Price Paid: $50.00
-Used for Every Day Carry
-Owned for 6 months
Comments:
Spike series of Cold Steel - typical neck knives. Created from one piece of steel. The most unusual thing of this one is a triangular section of blade with no sub edge. Frankly speaking Cold Steel not lie for the statement that this blade section allow improved cutting possibility for such narrow blade - knife cuts surprisingly well.
The back of knife is wide and absolutely horizontal so I was able to use knife as self defense, hitting one dog with back of the knife on muzzle. The steel is low value "Krupp" 420 but edge holding is good. The handle is narrow, but by me is comfort and the length is enough. The narrow handle allow knife easily and quickly to be rotated and as such to be eventually used in self protection situation as "war stick".
REMARKS: There is no notches on back of the blade for thumb. The sheath have no clip unlike other neck knives, if there is clip Spike will be much more better for carrying. The curve in the front of handle would be deeper for better guard serving.
However sheath hold knife very well and there is no chance for drop during neck carry.
As general - good and affordable every day carry neck knife.