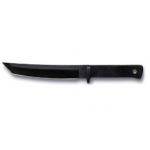 -Price Paid: $48.00
-Used for Self Defense
-Owned for Greater than 1 year
Comments:
I purchased this knife at Fort Drum Clothing and Sales. I used it as a secondary hand-to-hand combative weapon.
Blade-
This knife has a very long blade. It is powder coated black. It is durable but seems to lack an adequately flexible spin.
Edge-
I have sharpened this knife twice since I got it. it retain its edge quite well, though it will not readily accept a decent razor edge, and you will need advanced sharpening techniques to put a good razor edge on it.
Hilt-
The hilt is a one piece molded rubber like material. The small checkering covering the hilt make adequate grip difficult but possible for smaller hands. The lanyard hole always seemed a bit too small for me and I initially had difficulty threading 550 cord through it for a lanyard.
Sheath-
Mine came with a hard plastic sheath with a removable fabric blade retainer Velcro strap and belt loop. I personally feel that the sheath is the low point of this knife. The Velcro wore out very early on and the plastic sheath was supposed to be a tension sheath as well, but it failed completely in that regard. I modified the sheath with supplies from a hardware store so that the knife doesn't just simply fall out.
Overall-
The knife has withstood being used to slash enemy tires, being stabbed into cars and used as an IED probe. Since I got out of the service I have not used it as much, but one does not simply get rid of a good knife just because they don't use it anymore.