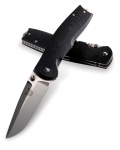 -Price Paid: $130.00
-Used for Every Day Carry
-Owned for 3 months
Comments:
This was my 1st benchmade. i expected top notch fit and finish and craftsmanship. for the most part it lived up to my expectations but there were some kinks.
first is the thumbstud, it was loose and free spinning. the screw was loctited to the stud but it wasnt tight enough, no big deal it was a quick fix but still not what i expected from benchmade, especially at this price point.
second was i had to loctite and tighten the pivot screw within 2 weeks, ive never once had to do that to any of my spydercos.
last but not least, the lock up was late for such a new knife IMO. that was also easily solved by adjusting the blade stop pin.
SO, now that all that is taken care of, its probably my favorite knife in my collection. the assisted opening is great and well thought out, seems to be nearly unbreakable compared to kershaws torsion bar method. although a safety feature would be nice, it will open if dropped. the ergos are outstanding, the size is perfect for me, the deep carry clip is also perfect. it came shaving sharp out of the box which i hear is a new thing for benchmade, i had read alot about them being dull. on top of all that, its a fine looking knife IMHO.