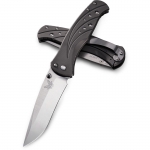 -Price Paid: $150.00
-Used for Every Day Carry
-Owned for 3 months
Comments:
Hey everyone from out here in California!
I just wanted to say a few things about the 790 that as far as I can see haven't been said on the web.
Overall I think it's a great, great knife. I'm very happy with the fit, finish, functionality, and focus of the knife. Here's a list of Pro's to spell it out.
Pro's-
-Titanium handles, love em'. perfect handle material as I see it.
-Satin finish, great satin finish and grind. Re-curve spear-point is a very functional grind.
-Nitrous assist is AWESOME. if you don't own a knife with this assist, get one, because I can honestly say it's the best spring assist mechanism on the market today.
-S30V blade, very sharp from factory, easy to keep sharp, hard to make sharp. Excellent wear resistance. And it's stainless, yeah!
-Framelock, works very well, strong secure lock-up with a built in lock bar stop on the pocket clip. So you can't overextend the lock bar. Great!
-Weight, the weight of this knife is a huge plus, it's the only titanium framelock knife I've ever seen that weighs in at 3.8 ounces. WOW! For the size of the knife and the materials used that's very impressive.
-Cost, picked this knife up for $150 on ebay,
you can buy em' all day long for $200. For what you get, materials used, weight, functionality, assisted opening, and quality of build this knife is a steal. Just cheap enough to justify as a user, with the quality of a knife you'd want to use as a user. Best knife I've seen for the value yet.
Con's-
-Don't like tip down carry, I think it was a compromise for the lock bar stop option. Debatable sacrifice. Would prefer tip up.
-Don't like how Benchmade make's it so you constantly have to adjust the lockup and pivot screw on this knife. Very annoying!
-Don't like frilly designs on any knife, ever.
-Fundamental flaw of any Ti framelock is that if you use it, as a user, the lockbar will wear faster than you might realize or might want. I've yet to see this problem rectified on any Ti framelock.
-Would rather have a dual thumb stud, single is limiting and annoying for lefty's.
-Would like to see better texturing for better grip.
All in all this knife changes everything as far as I'm concerned, because Benchmade's opened up the possibility of owning a very strong light knife that provides function as well as aesthetics for a really great price.