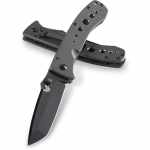 -Price Paid: N/A
-Used for Light Duty/General
-Owned for 6 months
Comments:
This Benchmade is really cool. It is Lum designed, and really just feels right.
Mine LFTi is first production in CPM-M4. The CPM-M4 is a great steel. The steel is a tooling steel, and takes a wicked edge. Pretty easy to sharpen as well. This steel will rust on you if you don't keep it clean. Many people even oil it, although I personally do not.
The blade shape on the LFTi is awesome. I really like the tanto, from both a looks standpoint and functionality standpoint. It keeps the blade nice and broad but give a nice tip to pierce with. The LFTi has a thumb stud(wish it had a thumb hole) but I can live with that. The blade is coated black, andthe coating does scratch but itn't weak by any means.
The handle on this knife is really great. Unlike my other Ti Benchmade, the handles on this don't get nearly as slick when they are wet, mainly because the holes provide some grip for your hand.
More importantly about the handle on the LFti is the fact that it has a frame lock, which is my favorite locking mechanism on a knife. The lock is very strong, locks up tight, and is positioned such that your palm helps heep the knife locked during use by forcing the lock further into the blade.
The action on this knife is nothing short of epic. It is so smooth and easy to open. This knife is a bit big and burly for EDC, but if you like carrying a big knife it might not be so bad. Really, the LFTi could effectively serve as a camp knife, EDC knife, or just a knife to put in your collection.
The knife is a touch expensive, but that's what you pay for a quality knife these days. I think my LFTi ran me 175 bucks or so. In the end, I don't think you will be dissappointed with this knife.