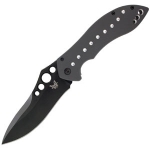 -Price Paid: N/A
-Used for Every Day Carry
-Owned for Greater than 1 year
Comments:
The Skirmish is a great frame lock knife that get over looked because of it size. The blade also get sneered at because of the recurve and 4 holes.
I am here to tell you, you had better get one before they are so hard to find that they reach $300 on the secondary market.
These carries relatively small since it packs a lot of blade for the handle. The ergo's are perfect for my hand but could pose a problem smaller hands. The thumb ramp has good jimping. The knife deploys smooth, and locks up solid. The recurve and the tall flat grind make for a great slicer.