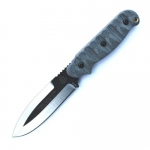 -Price Paid: $100.00
-Used for Every Day Carry
-Owned for Less than 1 Month
Comments:
Ever since I saw this knife on a blade magazine I decided to get it. Knife feels good in hand, the roughly sanded micarta handle sits very well in hand; finger grooves, not slippery, not too rough to touch.
Weight of the knife for me is pretty much dead on right. 10.5oz of steel feels solid and well balanced. Blade looks like it's double edged, but the top side of the blade is dull. The top side is still quite thin so you could easily sharpen it or even make serrations (I wouldn't recommend).
This knife is a fighting knife, but it's also pretty good in outdoorsy use. Tho for hacking thicker wood this knife is not very useful because of the shortish blade. But if you don't plan to build a shelter while in the shelter, this knife is very good all-around-knife.
For me a nylon sheath is the only way to go. Cuma comes with MOLLE compatible sheath which has a small pocket for a firestarter/file. I prefer nylon sheaths because they are lighter, easier to customize and usually look better.