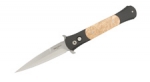 -Price Paid: $110.00
-Used for Light Duty/General
-Owned for Greater than 1 year
Comments:
Well, this review is for a Monaco, not a Large Don. Protech makes a wide line of automatic knives.
This is a smallish knife, but has a very aggressive blade profile just perfect for sticking things. The shape also creats a very long cutting surface with a slight belly. Probably my favorite blade shape on any knife I own. Opening is snappy, but not over-powering. No safety, thank god. A perfect vest or watch pocket knife.
---
Comment by Airborne Bob 01/28/2012
This knife does not have a safety on it, as do most of the Protech knives. Can open in your pocket and cut the heck out of your hand.