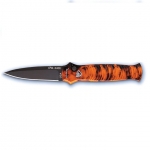 -Price Paid: $110.00
-Used for Every Day Carry
-Owned for 3 months
Comments:
First off I love this knife. I have been looking for a small EDC automatic that met all my (possibly overly) specific needs. This is a small sized knife that you can easily palm. Great ergo and it is the perfect size to clip or just toss in your pocket. I wanted a light duty knife that I could open with one hand and close with one hand. The spearpoint edge is a beautiful looking design with a thin blade which is great for slicing and light use.
The fit and finish on the knife look great. The thing manages to be light as hell, yet still retain that feel of quality and worth that you get from your larger solid knives. Another aspect where you can feel the quality is when you press that button and that thing deploys hard and quick. It literally jumped out of my wife's hand the first time she opened it, so you want to make sure you are not limp wristing it. There are a couple cons I have found. As with almost all autos there is some blade play. There is no way to tighten it up so your only recourse is probably ship it back for a tune up. Another minor complaint is there is no jimping. Not a big problem since you probably should not be putting a ton of force into heavy cutting or sawing since this is more of a slicing blade style. However, the smooth coated aluminum can get slick so just having a little friction would really help. The last thing and I feel ridiculous even writing it but the font on the blade appears to be comic sans. I really feel like asking the man in charge of this decision wtf they were thinking. Overall great knife if your looking for a fun, solidly built little auto.
The youtube video was not produced by me. Give all praise and complaints to the producer.