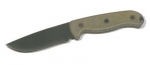 -Price Paid: $70.00
-Used for Outdoor/Survival
-Owned for Greater than 1 year
Comments:
The TAK-1 is one tough blade.
BLADE- The FFG blade has a cutting edge of 4.3inches long with a very strong tip and good belly on the blade. Making it a great slicer.
HANDLE- The micarta handles are well designed and more comfortable in my hand for extended use then my RAT 5. The handle design is not good for tactical use because it does not offer good traction went stabbing.
SHEATH- The nylon sheath is pretty bad. Checkout the SPEC OPS line of custom sheaths that will fit the TAK-1 and many other Ontario knives.
CONCLUSION- This knife makes a very tough reliable lightweight camp/survival knife. Not recommended for soldier as a tactical blade.