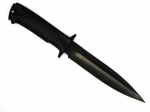 -Price Paid: $175.00
-Used for Outdoor/Survival
-Owned for Greater than 1 year
Comments:
After a wrong purchase (Kizlyar DV-2) I bought this one to replace ColdSteel SRK.
Blade of the knife is full tang, quite thick as in all Kizlyar knife and the blade is hand made (each blade has serial number). The blade has a sharp point because this is more of a combat knife than outdoor knife. What I specially like about this knive is the slightly curved edge which I find very easy to sharpen and use for pretty much everything from slicing tomatoes to make tinders.
Blade is made with same russian steel as DV-2 (65X13) and it is very strong (you could swerve a train back on it's tracks). And beacuse of the sharp point it's really easy to make small holes on sticks etc.
The handle... it's something I've never felt before and it is not easy to describe it. I'd say it's like wrapping a 3-4mm layer of car tyre around the handle. Soft to touch but not that soft you could press a cavity it. Even the handle is relatively smooth you get a good grip wether your hands are wet or oily.
Phoneix-2 comes with a plastic (not kydex) sheath with few holes to wrap paracord around it.
I think this is pretty decent all-around-knife which replaced my SRK.