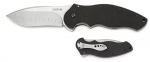 -Price Paid: N/A
-Used for Every Day Carry
-Owned for Less than 1 Month
Comments:
After fooling with a crappy Military, I bought a Kershaw Tyrade today. My first impression is WOW! I've owned Kershaws from years past, and I can say they're quality, value and fit and finish is the best I've seen.
I got teh orange G-10 handled one with speed safe and the composite blade. The CPM D2 edge came sharp enough to shave, straight out of the box. It's a big knife, bigger than the Military, with a thicker and bigger blade. But I haven't even noticed it in my pocket. THe grip is perfect, and fits my hand perfectly. The speed safe if wonderful. It opens fast and easy, and locks up tighter than a high dollar hooker. The liner lock is thick and mates to the tang perfectly. There's a lot of room left there for wear.
For $75, this is the best deal around, bar none!
Do yourself a favor and don't waste your time on other brands. This has them all beat hands down. If all Kershaws are built like this one, I'll be buying them from now on.