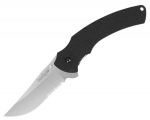 -Price Paid: $28.00
-Used for Light Duty/General
-Owned for 3 months
Comments:
The Tremor is a great knife, don't get me wrong, but it's let down by shoddy manufacturing. Kershaw produces most of its more affordable blades (talking less than 40$ or so) in China, and regardless of the QC, the materials are the biggest letdown of the Tremor. Mine came from the retailer with two screws stripped on my pocket clip, so I can't flip the clip to tip up, and the G10 is slightly matted, which is annoying for a brand new knife. That said it came pretty sharp from Kershaw, always a plus, and the action (which needs a lot of help for an assisted opener unfortunatly) is pretty good. Cost taken into account, it's a good knife but not stellar.
---
Comment by Matt 12/02/2011
WM, these are great reviews. It's awesome to get the perspective of a custom knife maker!