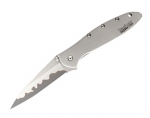 -Price Paid: $65.00
-Used for Every Day Carry
-Owned for 3 months
Comments:
A great knife, bought two of them, one was for a fathers day gift and decided that I would like one myself.
The Pros:
First off, the blade, slender and sharp out of the box. The design makes it very handy for EDC use, especially in an office carving open boxes and envelopes. The two tone blade composed of CPM-D2 (edge) and Sandvik 14c28n (back) steels with the copper inset is technically fascinating. It holds a wicked edge and takes plenty of wear before requiring resharpening. No rust problems at all.
The handle is 440 stainless. It is slender and smooth. Not a great selection for wet use, but for that, I'd select a G10 handled knife for those situations. The smoothness is excellent to get it into and out of the pocket without hangup. Also, if you like putting other things into the same pocket, the smoothness of the handle doesn't file your knuckles off while reaching for them. I'm not really a lanyard person but the hole seems that it would accommodate most reasonable size string. There is a blade closed lock incorporated in the handle, more on this later.
The size is ideal for what I select it for and don't rate a knife on this merits (if the length is wrong, you selected the wrong tool). Feel in the hand is nice, the clip doesn't dig in as much as I thought it would. It has a nice solid presence when in the hand.
The speedsafe assisted opening is fantastic (this was my first of many speedsafe knives now) and works flawlessly. It has a particular satisfyingly sound when it flies and locks open. Be sure to keep your hands, toes, eyes, anything not to be cut away from the backside of the blade when it deploys, the tip is sharp on the back swing also. (ask me how I know)
The frame lock is silly strong for a knife of this size, if it failed, likely you picked the wrong tool for the job (I would expect the blade to fold / snap / meltdown before the lock ever failed). There is no play at all in any direction once locked up.
Clip is reversible for tip up / down, but NOT southpaw friendly.
Now to get picky:
With everything in perspective, the only complaint I have had is when I drop the knife when closed (I suspect this happens to all leeks and possibly other speedsafes). On an occasion it has slipped from my hand (my fault but it is a smooth knife) and when it hit the floor, IF the blade opening lock was NOT in place, the blade WILL fly open. This has a tendency of alarming standers by while at the grocery store or other public places that people might be knifeaphobes. However, when it hit the hard floor, the 440 handle is so hard it didn't even mark it up (read: impressed).
Although the knife is solid, but compared to another knife of similar size, can feel heavy (3.1 oz), but after all, all business components of this puppy are completely made of metal.
Conclusion:
Would highly recommend this knife to anyone who needs a slick, fancy looking, easy carry, sharp knife for opening anything from the occasional boxes to letters around the office. It makes an excellent gentleman's folder. If I misplaced it, I would purchase it again in a heartbeat.