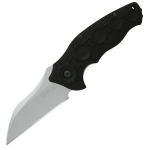 -Price Paid: $39.00
-Used for Light Duty/General
-Owned for 3 months
Comments:
Blade Steel: Sandvik 14C28N
Blade Style: Wharncliffe
Blade Length: 3"
Blade Thickness: .120"
Handle Length: 4.2"
Handle Thickness: ~.700"
Handle Material: Polymide
Knife Weight: 3.5 Oz
Hardware: Torx bits (T7 for pivot, T6 for clip and handles)
Removable Clip
SpeedSafe Assisted Opening
First of all, I can't really remark on the steel, but it seems like good stuff, I can't say how it compares to most other steels though.. It sharpens to a wonderfully sharp edge and is not very hard to achieve shaving edges.. Kershaw apparently hardens it to 59-60 HRC, but I find it easier to sharpen than my S30V BM930 at that hardness, and I think it comes out with a slightly sharper edge, but that's probably due to blade geometry between the knives I'm comparing since the Needs Work has a pretty thin hollow grind. It also came out considerably sharper than my Case Trapper in CV, but the blade on that has thickened overtime. Either way it was much easier easier to sharpen than these particular steels so that's probably why. I would liken how quickly it sharpens up to some 440 grade steel at 56-58 HRC.
The factory grind on the knife was okay, but left some to be desired. The edge came very sharp when it comes to hair popping, but slicing simple fabric was not so great.. It was not free of defects, there was a large dent on the edge and one bevel of the V grind had an additional bevel on the end, as if they were attempting a microbevel but only put an additional bevel on one side of the blade I've never seen a factory edge done like this, and I've seen one person suggest that Kershaw puts a microbevel only on one side, and then buffs the burr off the other side—but it seemed like a defect to be because it was so uneven. It was actually a lesser polish versus the factory off of my 1K Norton waterstone, but it got much sharper after I touched it up on the existing bevels—weird semi-microbevel included. I think it would be one scary sharp blade if brought back up to the original factory polish and given a better bevel.
Sharpening the knife was fairly easy, and as I said earlier about the steel, it seems very readily removed-only needed a few passes to touch it up. One caveat I wanted to mention that someone else noticed was that the Wharncliffe blade doesn't rest squarely on the honing stone because the tip thins out. The user must choke the handle up slightly in order to grind the tip, but must also take great care not to roll the tip dull. Maybe that's why it came dull from the factory, but it's really the only part of sharpening this blade that's very difficult. Otherwise, the flat shape of the blade makes keeping the angle pretty easy. Between the steel, the hollow grind and the overall blade geometry, I think it would be hard not to get this knife sharp.
Reprofiling the blade to 30 degrees inclusive was my final sharpening task. It didn't take nearly as long as I thought it would, but it didn't come out very uniform because I rushed it. I had troubles creating a uniform grind free-hand with this knife because there is just the slightest belly. It's not immediately noticeable and so you really have to slow down and make sure that you grind the entirety of the blade evenly, and when reprofiling it's kind of easy to mess up and have the tip inconsistent with the rest if you don't pay particular attention-it's not quite as simple as just rubbing the blade on the stone, but it's not as picky as a knife with a large belly either. It was just a slight learning curve and after a few strokes the amount I needed to move the blade up and down was locked into muscle memory, but I decided to put a somewhat convex grind on it after reprofiling so that I didn't have all the shoulders from those other angles. All in all, the edge geometry I put on wasn't superb, so I can't really say much for how sharp this knife would be a with a very nice even grind on it.
However, after the profiling the blade was much, much sharper than out of the box or after sharpening the factory bevels. Even with my sloppy free-hand results, a 30 degree inclusive angle and a full reprofile helped the blade out significantly. The tip is probably the most desirable aspect after a reprofile, it's like having an eXacto knife on the end of your blade. I doubt that my convexing did anything to improve things as it would be too uneven, but I can only imagine that with a nice consistent angle sharpened with a guide or a jig, this knife's edge would be pretty hard to compete with in terms of how easily you can get it scary sharp. I haven't even had any desires to fix my uneven grinds, I just strop them up and this knife still outdoes any of my others in terms of how well I can sharpen it.
Edge retention is rather interesting, and I don't have a way to really quantify it. It seems that it holds a very sharp edge for a considerable amount of time, but then once it starts to dull out it gets worse very quickly. Luckily sharpening it is extremely easy, and even just stropping it daily seems to be effective. The steel itself is not really soft at 59 HRC, and in fact after re profiling to 30 degrees inclusive I dropped the edge from about 3" up straight down on the edge of my honing stone, and all it did was create a microscopic nick I can't even see at 30x magnification. I can feel it with my fingernail and an "EdgeTester", but overall I cannot notice it while cutting. So far I haven't really had an opportunity to really use it enough to properly rank edge retention though, but I suppose it all depends on the bevel being used. I suppose hardness isn't a very great indicator of edge retention, but I bring it up because even at 59 HRC it feels as if it were some 56-58 HRC 440 with the rate that I was removing stock.
The Wharncliffe blade itself is very nice, very short and stout. The tip is quite thin though, as the first .200" back from the very tip is only .015-.020" thick at the spine itself. It quickly tapers into the full spine width shortly after the .200" mark though. To me it almost seems fragile, and while I don't make a habit of stabbing my knives into a tree or something, I'm not sure this tip could take it, so I would be worried about it being ran into something too tough for it. On the other hand, if you have a delicate task that requires precision the tip is fantastic. Then not to mention all of my usual EDC tasks like opening packaging material ( clam shells ) or boxes is usually handled by just this front portion of the blade. Seeing as it's only .020", it cuts packages open like they weren't even there. The blade geometry itself means there's not a whole lot of force needed to complete the cutting job anyway with that great hollow grind and the swedge on the tip, but the thickness of the tip beyond the taper point still worries me a little. I'm just not sure if I would call that tip the knife's greatest asset or weakness, but I guess it depends on what kind of work you think the "Needs Work" needs. For delicate precise work it is quite awesome, but I think if someone is going to be using it for buschcraft or something like that it would probably snap off. It's .020" thick at the spine itself at some points, pretty much similar to the thickness of a box cutter's blade.
The handle is arguably the most notable feature of the knife, and as others have mentioned it really comes down to function and comfort over aesthetics. There are large circular divots in the sides of the handles that make it extremely "grippy", and are even quite comfortable to put the tips of one's fingers into. The handle may be 4.2", but with the contour where the liner lock is just behind the pivot, it really shortens the practical portion of the handle you can actually grip on to down to 3.2". My hands are 3.5" wide, and 7" long palm and fingers included, and the handle fits very well into my hand even though my pinky finger kind of dangles off and rests against the butt of the handle. A reverse grip wouldn't be very comfortable, but an inverted one would be, though I can't see the practicality in this-I suppose if you wanted to pretend that it was a fighter knife; it does kind of have a Klingon Warrior appeal to it.. Despite the less than appealing-to me anyway-looks, I think the ergonomic design is a very good one. The knife is super comfortable in my hand, really fits it just like a glove, and ergonomically speaking the handle puts very little stress on the actual hand, as the offset to the blade gives the user a lot of leverage in the cut.
The knife's weight is actually pretty light, but it's deceptively heavy feeling. I think this is because of the thickness of the handles, it's very noticeable in the pocket. The clip is everyone's number one complaint with this knife, and I'm no different. It's extremely tight against the plastic, and it extends down over one of the divots which is probably the reason it's so hard to clip onto anything.. Even after I bent the handle to be easier to attach, it's still mounted quite low on the knife, I still think it rides awkwardly, and the clip itself really makes the grip uncomfortable to me. It doesn't quite gouge into the hand, but it's just a much more comfortable grip without it. I usually like folders to have a clip so coins don't fall in through the back and get the edge, but the backspacer between the liners is closed so I don't have to worry about that with this knife. The only problem is that I often don't like it in my pocket because I worry about something pressing the lever for the AO.
Overall the fit and finish of the knife is quite nicely done. The liners and the backspacer are flush, but the handles are not; they extend out over the liners a couple of thousandths of an inch, and there are little burrs left on the plastic; I doubt this is an issue with the G10 model, and not really an issue for me-if anything it's nothing a little sandpaper can't cure. The blade itself has no vertical or horizontal play out of the box, and the liner lock locks up snugly and square with the blade. I think it probably as something like 80% engagement at the worse times, and the blade is even centered very well-probably not quite dead center, but close enough for me. The jimping on the spine is not too aggressive, but it is functional, which is surprising as it is rounded over slightly. I think people with softer finger tips might appreciate this, but I would have preferred more aggressive jimping. The only other complaint I have is that the radius where your index finger is supposed to rest is so tight I have a problem engaging the liner lock with my thumbnail, and have to use my index finger instead.
The hardware and opening mechanism of this knife are quite impressive to me as well. It not only comes with no vertical or horizontal play, but it doesn't develop any with use as something like my AXIS lock does over time. Better yet, the adjustable pivot seems to place an extremely small amount of friction on the opening of the blade, making adjusting away any horizontal blade play very easy in comparison. The SpeedSafe assisted opening is smooth and engages the lock nearly every time, and if it does not the flipper will sit in the contour provided for the index finger, so as the user goes to grip the knife the index finger will force it open completely, and if not, the flipper will prevent the users index finger from being cut, or at the very least alert the user that the lock didn't fully engage. I thought that this was actually one of those only assisted opening knives I've seen that actually makes it safer to use, and you can even convert it to a manual opener by removing the torsion bar. The only problem I have with it is that I think it's rather likely that it might open up in the pocket, and in fact I already had it partially engage while in the pocket with an Altoids container. I think I would probably try to get a new clip or something rather than carry it in my pocket. The flipper lever is just too large in my opinion.
I think it's probably one of the more higher quality knives that I've brought for one of the more mild prices. I spent $38.99 on it plus tax at BiMart, and despite the poor factory grind it's a fantastic knife in my view. A lot of people don't like the polymide handle (there's one in G10 too though), but I think it's very comfortable and grippy, and as far as the finish is concerned it's only a sanding away from being perfect. I'm not sure that I'm comfortable carrying it everywhere though, the aesthetics of it look very intimating for some reason, and the assisted opening isn't really all that people-friendly or pocket-friendly. Combine that with clip-less carrying being the best way to carry in my opinion, I could see it being misconstrued as a concealed weapon under the right circumstances, especially with the Assisted Opening. However, the great thing about the SpeedSafe assisted opening systems is the ability to simply remove the torsion bar and turn it into a manual knife, which is great to carry it in cities. I never wanted to take it to Seattle before that, and as it seems municipalities are starting to attack AO's as switch blades, it's good to have that ability. Combine that with the option of G10 scales, the premium Sandvik steel, and it's hard to find that much value in a knife for $40-$45.
I still use mine mostly around the house though. I carried it as my EDC for about a month, and found that some of the "everyday tasks" I use my EDC for leave this knife under-tasked.. I can't clean my nails with it because the tip is far too sharp and the knife is flat, and if I flick it open to open packages or envelopes it just seems like it's insulting it. So I generally leave it at home when I have some cutting task that needs either a very fine tip, or if I have to cut a lot of stuff and want a comfortable handle, or if I need to make a really forceful cut and need the right shape of handle. I like how it handles all of those well, and I think that's really where its name becomes suiting. I don't think it's really a "hard use" folder, but you'll definitely wind up finding it more useful for a wider array of tasks than most of your other folders. Either for EDC or just having around the house, I think that for $40 it's kind of one of those knives that everyone should have one of.