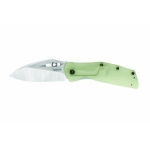 -Price Paid: $63.00
-Used for Every Day Carry
-Owned for 3 months
Comments:
I've owned this now for a little while now. It's become rather quickly one of my most prized EDCs. It's a very light weight
very well built knife. The fit and finish are second to no one's.The SpeeSafe assist works flawlessly and locks up solidly.
I really like the unique looks of it and it draws positive comment every-time I saw it to someone.The 14c28n is a
great steel for this purpose. I've been using since Kershaw
first offered it. I find it very stain and chip resistant.
It maintains it edge as well as I well as 154cm or ATS 34 both But exceeds both in stain resistance and overall sharpness.
This knife will take a spooky sharp edge as some would call it.For the price you'd have a very hard time finding a better
knife.I'd recommend this high quality US made knife to
anyone.