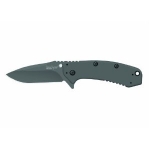 -Price Paid: $40.00
-Used for Every Day Carry
-Owned for 1 year
Comments:
Pro:
- Rock solid construction, this is a sledgehammer of a knife, everything is heavy-duty, from the massive frame to the very tight spring to the blade itself. You could literally split logs with this thing. Fun to beat up.
- highly resilient surfaces, tough to scratch, no rust.
- bad-ass looks
Con:
- First time I've ever encountered purely decorative thumb studs. They're totally extraneous - can't open the knife with them (positioned wrong, too small, spring mechanism too tight), nor do they serve any locking function. Just plain silly.
- WORST pocket clip EVER. Hard to believe Hinderer/Kershaw could commit such a travesty. Sure, like Mark says below it rides nice and low in the pocket, but it's as flimsy as the rest of the knife is solid. The screws tear your pocket, the finish is cheap. Aesthetically it bears zero relation to the rest, an afterthought at best.
- Too heavy for an EDC, too small for a tactical or hunter
- blade needs frequent sharpening
OVERALL:
- Looks like a serious knife, weighs like a serious knife, costs like a (relatively) serious knife. But this isn't a serious knife. It doesn't know what it wants to be, like a short dude with huge muscles - can't be a jockey cuz he's too heavy, can't play football cuz he's too short. This knife shouldn't cost 40 bucks. I've got 20-dollar knives that are much better designed overall. Only positives here are the looks, finishes and structural solidity.