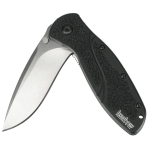 -Price Paid: $70.00
-Used for Every Day Carry
-Owned for 6 months
Comments:
One of the cheapest s30v steel blades around.
GOOD- s30v steel at $70 is unheard of, stronger tip then the original blur, open assist, thumb studs are very ergonomic, and an ergonomic handle.
BAD- there is not enough traction for stabbing, the pocket clip rides higher then I would like.