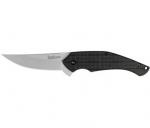 -Price Paid: $18.00
-Used for Light Duty/General
-Owned for 3 months
Comments:
I picked up this knife on one of those "deal of the day" offers online. There was a choice of 5 Kershaw assited-openers and I chose the Asset base on it's 3.8 oz. weight and substantial size. I thought the design was also very unique.
The knife I always use is a 16 year-old Spyderco Delica. It has some scratches, a little rust (I guess I neglected it a bit), and the blade was dull. I was going to send it back for sharpening and wanted another knife as a stand-in.
The Kershaw Asset was cheap. Too cheap to pass up. The online deal was $12 plus $5 shipping. I saw it as an opportunity to get a little bigger knife than my small Delica. I wanted something with a blade over 3" and I really wanted the assisted opening ability. The Asset is 3 1/4", big enough, but not so big that it is scary, or heavy.
I was surprised when I received the knife. It was constructed much better than I thought it would be. It is well made. The 3.8 oz. weight is a little heavy. I am used to my old Delica, which is a FRN handle with no metal liner. That knife is like carrying a feather. The Asset is thick (thicker than I thought it would be) and has a liner. The blade is also fairly thick and flat ground. Adding the assited opening mechanism doesn't help the weight either. If you are looking for light weight, you can do better.
The knife came sharp, I was impressed. I was able to get it sharper with just a little work. Very nice. It's sharp enough for anything I need it for. The blade opens quick enough, but it is no switchblade. It kind of "flips" open. Lock up is perfect, with no wobble at all. I don't prefer liner locks, but it has one. Most people don't know how to close it. People that see it like it. It looks a little intimidating due to the blade shape, which is probably a bad thing in most cases.
The pocket clip is very tight. I cannot see this thing falling out of my pocket, but more so fraying the edges of my pocket. Probably not the worst thing. I am used to a plastic pocket clip on the old Delica. The best thing about the plastic is that it does not scratch things that I bump into (like my car) when I have the knife clipped to my pocket. This knife has a metal clip, which I think is the current standard.
If you are looking for a well-constructed knife, rock solid lockup, assisted opening, a 3 1/4" blade that is SHARP, and it has to be around $20, I'm pretty sure that won't be able to get better than the Kershaw Asset. It's alot of knife for the money. I'm thinking you could spend double the money without getting anything better. We'll see how it holds up...it is made in China, you know.
I intend on buying another Kershaw.