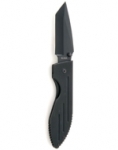 -Price Paid: $10.00
-Used for Every Day Carry
-Owned for Greater than 1 year
Comments:
I purchased this knife at a gun show (5 to be exact) and the price on them was 15.00 but the guy let me have them for 10.00 for purchasing 5 of them. I gave them out as gifts and kept the tanto style one for myself. When I first began to play with it I noticed it was kinda stiff and took a little gettin used to. The blade was not that sharp out of the box and it took a while to get it nice and sharp but now that it has gotten there, it holds that edge pretty good! I started to carry this knife for a while and the more I used it and played with it, the easier it got to open. I do have to say...THIS KNIFE IS SOLID! I have put it through a lot of stuff and it is still ticking! Some people disagree with me, but you DO NOT have to spend a lot of money on a knife for it to be a EDC!!! This knife is perfect for that if you are looking for something cheap, reliable and will not break under pressure. The blade is not made in America but from what I was told, the rest of the knife is. The pocket clip is EXTREMELY stiff on it and you can rest assured that the knife will not be sliding out of your pocket. It kinda reminds me of a Glock firearm...it is bulky and not really something that catches your eye but it works everytime and holds up under loads of pressure. The only thing I wish KABAR would have done was give you the option to carry it tip up or tip down but for the price, you really cant complain! I suggest taking a look at one if you are in the market for a cheap reliable knife!
---
Comment by Stuart 11/03/2014
I recently purchased one of the newly redesigned Ka-Bar Warthog folders. It was so cheaply made I simply gave it away! Why Ka-Bar would ruin their reputation over a couple of extra pennies in profit is beyond me...
---
Comment by Stuart 06/13/2012
Forget "cheap"...Plain and simple, the Ka-Bar Warthog folder is a reliable EDC knife! Nate, you forgot to mention that the perfectly centered blade will not accidentally open in your pocket.