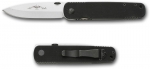 -Price Paid: $137.00
-Used for Every Day Carry
-Owned for 6 months
Comments:
Let's not be blunt here, this knife let me down when I got it even though there are also many good points.
Upon receiving the knife, I expected to get fit and finish of a knife of the same value. In that comparison, I used a Benchmade 940 and a Spyderco Manix 2 CTS-XHP. Both of these comparison knives are excellent in almost every way(I may review them under the same alias).
Cut to the chase, the fit and finish leaves a lot to be desired. The G-10 slabs do not fit just like the Liner does, and it looks sad to me that they don't pay more attention to this kind of stuff.
Now if you've done enough research, you would know the A-100 has a Saber Primary grind and a Chisel secondary bevel. You can sharpen it to your likings or make it a V-edge by sharpening the unsharpened side
If you're thinking of Pocket carrying this knife, you might be disappointed on the fact that it's thicker than most folding knives. On top of that, the back end of the handle sticks out of your pocket so it isn't really that enjoyable unless you IWB carry it. (Inside Waist band/ Belt)
For the price, I would really prefer a better steel. 154CM does take easy sharpenings and holds it's edge alright, but the Rockwell Hardness of Emerson knives leaves a ton to be desired. The RC 56 just does not hold an edge. The performance would be greatly magnified if the heat treat was RC 60.
Decide for yourself whether you want an Emerson. Chisel grind on a knife doesn't do well, but the Primary Saber grind is a V-edge so it's less biased when you cut into thicker materials.