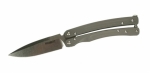 -Price Paid: N/A
-Used for Every Day Carry
-Owned for 3 months
Comments:
This is the Sebenza of the Balisong world. This Bali EDC's like no other. The curved handles make a drean to use. The blade shape is the same as an Alias. It uses the Benchmade spring latch, so it is easy to unlock. The pivots use phospher bronze washer so it is smooth and tight. Mine flips with almost no play and is near silent. These are not a great trick or aerial Bali. These are the best PRODUCTION EDC bali made IMHO.
---
Comment by Boomer 12/11/2012
I'm going to dissent slightly. I do like my Mayhem overall: build-quality, static ergonomics, blade steel, sharpness, pivoting action are all breath-taking.However, the Ti handles (as with all Ti butterfly knives) don't feel properly weighted for fast flipping. The curved handles, so right when the knife is locked open, don't twirl smoothly in the hand, and worst of all, the gritty feel of the Ti coating is disconcerting -- the tactile equivalent to nails on a chalkboard.The Mayhem is an outstanding knife -- but not my favorite flipper.
---
Comment by DaBird 01/11/2012
I own over 100 balisongs -- ALL the BM's , Kimuras , Spyderco's and many custom and discontinued balis --- the Mayhem bali is my FIRST choice for EDC/SD in a bali --- everything is "just right" about it -- opens easy , locks up like a bank vault , sharp as allhell , good point thats not to weak/fine --- just a AWESOME balisong and made in the USA to boot !!!