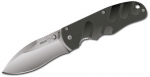 -Price Paid: N/A
-Used for Light Duty/General
-Owned for Greater than 1 year
Comments:
A solid folder with a strong framelock and an interesting blade design. Poccket clip is functional and it is easy to sharpen.
I mainly use it when going to the woods in addition to a fixed blade knife. The knife is OK for light to medium duty such as branch chopping, wood working, camp installation or even food prep.
The only downside concerns handle ergonomy, less compfortable than other folders on the same price range (Spydies for example).
Overall a good knife that I recommend