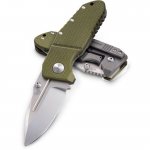 -Price Paid: $155.00
-Used for Every Day Carry
-Owned for 1 year
Comments:
My first review, so sorry for any missed points.
Got this knife Nov. 2010 hoping to be my EDC. I tried to make it that, but for some reason it is too bulky for active carry. If you check specs for it, you may agree (or not).
Weight of knife is just right, so no complaints there.
Blade is nice and thick, however not very sharp. I will admit, used it to open many X-mass boxes for kids toys, and that was all it took to make it dull. I have not tried to sharpen it my self, not yet. Considering sending it to Benchmade for "tuneup".
Thickens is my biggest issue with this knife. It is just to wide for pocket carry. However it feels very nice in hand
Build of this knife is like tank, after using it over 6 months and couple of accidental washes, it is smooth opening and no wiggle in blade.
I like it, just not for EDC, my opinion.