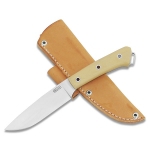 -Price Paid: $300.00
-Used for Outdoor/Survival
-Owned for Less than 1 Month
Comments:
I purchased this knife in CMP-3V. First of all I have no confidence in the sheath after the leather beds in. A secondary retention is needed. The knife design is good, with good weight and ergonomics. Now for gripes. 1. poor grinding around the heel (opposite sides of blade do not match). 2. this thing is not sharp at all (struggles to cut printer paper at times), certainly is not sharp enough to shave even a single hair when run down my forearm. For a knife that cost me $350 US delivered to me in Australia, I would have expected a little more in the way of pride of workmanship, and a knife that was sharp.
---
Comment by Crippy 01/16/2016
I found the same, but also noticed the edge dented slightly when I cut a plastic price tag retainer tie off a shirt I purchased. It was a very thin nylon type tag retainer. I tried cutting the same with several of my other blades with no ill effect. I don't know what Bark River is doing, but my vote is no confidence.