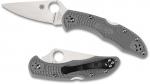 -Price Paid: $55.00
-Used for Every Day Carry
-Owned for Greater than 1 year
Comments:
The Spyderco Delica FFG is the zenith of EDC blades and affordability. For under $60, you get one of the best build, ergo-friendly, and high-quality knives on the market. This knife should be in any collectors collection.
I carried this knife for the greater part of a year and a half extensivly, it always found its way in my pocket.
The Ergos are perfect for my hand and the FFG blade makes for a fantastic slicer. While the FRN handles does make this less of a "gentlemans" carry and may turn some users off, it provides an amazing amount of grip and confort that amazed me out of the box.
Add good quality steel, fantastic construction and quality and this knife is easily the highest value blade on the market.
10/10 any day of the week.