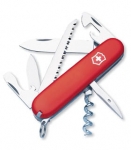 -Price Paid: $13.00
-Used for Every Day Carry
-Owned for 1 year
Comments:
I bought it for my volunteering year as a cheap 13$ alternaive to one hand trekker, which I left home because of airport saloon restrictions.
During one year I have used it daily for camping, cooking, repairing bikes, appliances, small artworks, gave it to people who abused it much more, broke small portion of blade on a tip trying to dismantle a subwoofer, people opened three wine bottles per week, who lost it in many various terrains through the year, but it still came back to me every single time.
I have thought that at the end of the year, I will have to discard it, since it will be bent, molten, ethically unappealing, rusted, jamming.
Now, a year later, about "camping" name reminds only half a tent of faded model, from incorrect way to open tin cans it has a scar under the Victorinox logo, yet all the tools are working, none of them is bent, none of the small tools are lost and I am confident, that my SO will make great use of it on her ERASMUS in Spain for half a year, as I come back to my trekker..