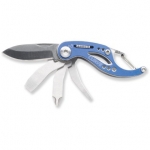 -Price Paid: $15.00
-Used for Every Day Carry
-Owned for 3 months
Comments:
I have been carrying the Gerber Curve for quite a while now and it is still the EDC choice for me. Although not intended for heavy duties it actually handles the small chores pretty well. Things like opening beer-coke-soda bottles, cutting cord, opening boxes and helping me (un)screwing all sort of IT stuff are not a problem when my Curve is at hand.
Versatile, cool looking and highly portable I really recommend it as a backup to fit in you pocket.
As for those who complain about the difficulty operating the locking system all I can say is that it has never been an issue to me: just use both your thumb and your index simultaneously and that's it. It's really no rocket science.
As for the fragility of the carabiner like clip I recommend doing as I did: make a clip with a longer tip to fit in the small hole and... problem solved! If one can't get his way around such a small thing better not even carry a tool at all.
In a nut shell: considering the price it's the best buy and it is overall better than the competition.
Peace and Respect.
(The only keychain tool that surpasses the Curve is its cousin, the Gerber Dime)