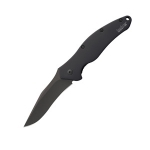 -Price Paid: $70.00
-Used for Every Day Carry
-Owned for 1 year
Comments:
Overall, the Kershaw Shallot is an above average everyday carry knife that performs light cutting chores very well. The Shallot is a spring assisted modified drop point plain recurved blade design. The pocket clip is reversible and there is a lanyard hole.
It comes in a variety of different steels that will please hardcore knife enthusiasts. I own the 1840CBZDP model that has a 14C28N backbone and ZDP-189 edge. There is a very cool looking wavy line where the two metals have been bonded together. The ZDP steel sharpens easily on a diamond sharpener. Sadly, it also stains and discolors very easily...but can be corrected with polishing.
On the plus side, the Shallot is thin, slim, sharp, and will slip invisibly into your pocket. Great for desk monkeys who can't carry a full size knife.
I've used it to cut up salad at work, whittle wood, butcher a rack of lamb into chops, split raw chicken and duck into halves and quarters, gut trout. It cuts through rope, webbing, cardboard and plastic like butter, although thicker materials might require two swipes. I've taken very thin layers of skin off my palm and thumb accidentally, without noticing until hours later. This is one sharp knife.
The grip does not slip when wet since there is a groove which keeps your hand from slipping onto the blade.
However, heavier prying and cutting chores are beyond the scope of this knife. The knife tip is fragile. Mine bent/chipped slightly when doing some prying, but i was able to sharpen it back into shape. That makes this a decent camp knife, but it isn't a survival knife by any means.
Sadly, there is no tip safety on the spring assist portion of the knife like other Kershaws. I've had it open on me twice in my pocket, but since I carry it downwards, it only opened partially and without much force. You need to exercise caution while carrying.
I'd also recommend keeping a star screwdriver (torx) available to adjust the assisted opening spring tension. After moderate use, the knife blade becomes wobbly, which is easily fixed with a turn of a screwdriver.
A related issue is that the frame lock will not always engage if the tension screw is not tight enough. This flaw makes the knife dangerous to use on occasion. I've also had the reverse problem when gripping the knife tightly, where the frame lock will get stuck and require a lot of pressure to disengage.
Another annoying design flaw is that if you reverse the clip, a small black metal part of the spring assist device shows, ruining part of the knifes sleekness of appearance.
In conclusion, this is a great ergonomic EDC knife with some flaws.