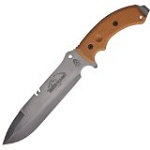 -Price Paid: $170.00
-Used for Outdoor/Survival
-Owned for 3 months
Comments:
I bought this knife just out of whim and because I kinda like the looks and how it felt in my hand. Knife feels very solid (as all TOPS knives I own), not too heavy or clumsy even it's a tad bigger than I'm used to.
This knife really shines when you have to chop/hack because of the curved handle as you don't have to squeeze the knife that hard. Even with the finger choil you just can't use the knife for very fine jobs because of the size of the blade, but it does help to be able to grab the knife closer to the tip of the blade.
Then the downside... it's the sharp top edge. The idea is great to have a secondary edge but use this knife for batoning, you loose about half the cutting energy because the blade sinks in both 'batoned' and 'batoneer' pieces equally.
But all in all, great piece of a knife =)
PS. TOPS Sheaths are my favorite because of the extra pocket.