KaBar Becker Necker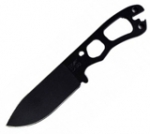 View More Pictures
Overall:
Quality:
8.0
Ergonomics:
6.3
Value:
8.8
Overall:
Quality:
9.0
Ergonomics:
7.0
Value:
9.0
Knife:

KaBar Becker Necker


Review by:

Del


03/05/2011
Price: $33.00
Use: Outdoor/Survival
Time Owned: 3 months

Comments:


I've only had this knife about 3 months, but so far I like it a lot. I keep it in my day hike bag for short trips into the woods and it's been working well for me. I've been using it for general utility tasks and it's working well. It was quite sharp right out of the box and it holds an edge well. The skeleton handle is not the most comfortable, but it works. I'm considering wrapping the handle with some 550 cord to improve the grip. Overall, it's a good little knife and I only spent about $33 for it on Amazon. I'm confident this is a knife I can rely on.

The Kydex sheath is a little on the large side, but it holds the knife well and it has enough grommets to give a lot of carry or mounting options.

Although it's intended as a neck knife ("Becker Necker") it's a little big to wear around your neck under clothing. As long as you keep it outside your clothes it does work fine as a neck knife, though.
Overall:
Quality:
9.0
Ergonomics:
5.0
Value:
9.0
Knife:

KaBar Becker Necker


Review by:

Jiggy


02/03/2011
Price: $32.00
Use: Outdoor/Survival
Time Owned: Greater than 1 year

Comments:


A flat ground, drop point blade made from 1095 Cro-Van. The blade measures 3.25" long, with an overall knife length of 6.75". This blade comes with a molded plastic sheath with a small amount of cord.

This neck knife can get a very good edge on it. I personally convexed mine and it's the sharpest knife I own. I've put this little guy through some beatings without a problem. Good knife, good price.
Overall:
Quality:
8.0
Ergonomics:
5.0
Value:
9.0
Knife:

KaBar Becker Necker


Review by:

Lock1454


01/03/2010
Price: N/A
Use: Every Day Carry
Time Owned: 3 months

Comments:


The BK11 is tremendous bang for your buck. You get a nicely coated blade and a decent sheath for a relatively low cost. The knife takes an edge easily and holds it for a fair amount of time, on par with any other 1095 steel I've had experience with, the edge does seem to be a bit more prone to rust however. Never had occasion to use the bottle opener, but from looking at it I see no reason why it wouldn't work just fine. And there's also a wire breaker if that would be of interest. The handle is not the most comfortable of grips, even when wrapped with paracord. It is only long enough for a three finger grip, which in and of itself is not the bad part, but the finger grooves don't fit the hand very well. It's not terribly painful when held tight during hard work, but it is by no means comfortable. The sheath is definitely usable but it was designed to be used with both the BK11 and another KaBar offering. This dual purpose leads the BK11 to not fit snugly into the sheath, there is some rattle when it is sheathed. There are no worries about the knife slipping out from typical carry, it's just an annoyance. The sheath is also a bit long/wide, it the grommets could have been placed a bit better to make the profile a bit more friendly. Overall, the knife is a pretty good value for someone looking for a small fixed blade on a budget. I personally wouldn't think it'd be a comfortable concealed neck knife, but for open neck, belt or pocket it would be fine. For a little bit more money, there are some better offerings to choose from.
Overall:
Quality:
6.0
Ergonomics:
8.0
Value:
8.0
Knife:

KaBar Becker Necker


Review by:

Fascion


12/08/2009
Price: N/A
Use: Light Duty/General
Time Owned: 6 months

Comments:


The factory edge on this knife was just atrocious; only decently sharp, the symmetry of the grind was laughable at best. Half an hour on sandpaper fixed this for the most part, but there is still a tiny section towards the tip that was ground so steeply by the factory, that even my convex reprofile failed to take it out. I've also seen many photos of this knife wherein the stamps on this knife were so poorly placed that as much as half of the stamps were missing, having been ground off from the blade. Mine, however, was fine in that respect. Build quality aside, it's a damn fine knife. Perhaps just a tad on the heavy side for all-day neck carry, but that's just me. Ergo-wise, the handle may be a bit short for some and it might take a fair bit of experimentation to get a paracord wrap setup that works for you. I opted for a gutted cord wrap, as I don't like bulky handles.
Reply by: joe gockel 04/09/2013
This is one of the best knifes i own.It didn,t come with handles so i bought some.I gutted and skinned my deer with it stayed sharp through it all.Great knife.