Hinderer Knives XM-18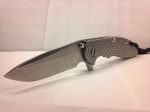 View More Pictures
Overall:
Quality:
10.0
Ergonomics:
9.0
Value:
8.5
Overall:
Quality:
10.0
Ergonomics:
10.0
Value:
9.0
Knife:

Hinderer Knives XM-18


Review by:

AMsquare


06/24/2014
Price: $895.00
Use: Every Day Carry
Time Owned: 6 months

Comments:


Man alive! I really hesitated before pulling the trigger on this purchase. I thought it was too expensive on the secondary market. I even thought about getting a clone, but after handling a genuine Hinderer, I gave in ...and am I ever glad I did! There is simply not another knife like this. The only advice I can give is to not handle one. After that experience few other knives will ever get your attention.
Overall:
Quality:
10.0
Ergonomics:
10.0
Value:
9.0
Knife:

Hinderer Knives XM-18


Review by:

Gus


10/02/2013
Price: $875.00
Use: Every Day Carry
Time Owned: Greater than 1 year

Comments:


A stout, well designed extraordinarily ergonomic flipper that has taken over leadership of my extensive knife collection. I don't know what it is about this beast, it just seems to belong in my hand. Mine is a generation 3 and should be a safe queen, but it demands to be used. The only funny thing about it is that it does not have the greatest detent in the world, but it has never been a problem. There is no better knife maker in the world than Rick Hinderer.
Overall:
Quality:
10.0
Ergonomics:
6.0
Value:
7.0
Knife:

Hinderer Knives XM-18


Review by:

Amanda


04/21/2013
Price: $385.00
Use: Every Day Carry
Time Owned: 3 months

Comments:


I've had the XM-18 for a while, and I like the quality in it, but, the ergonomics on mine were uncomfortable.

The price may be the best thing I can say, as at $385, you really do get the quality everyone brags about.

The maker is an idiot though, as he doesn't sell to civilians, so, it makes the XM-18 and XM-24 one of the most sought after and price gouged knives on the market, or should I say NOT on the market...

The blade thickness is absurd, this will not cut as well because of how thick it is, and the factory sharpness is not as good as possible either.

The lack of options for serrations is not good, although the scales are customisable.

Overall, I'd go with a Strider SnG, Microtech Socom Delta or Sebenza instead.

I will never buy another until the problems are fixed.
Reply by: MikeM 09/04/2014
$385 is the factory price for LEO's, first responders and active military.


Reply by: STS3 04/10/2014
It's possible that they bought this knife directly from Hinderer through the military/first responder thing which would be right at that price.


Reply by: myself 01/20/2014
I suspect you may have a FAKE... which would explain your issues. $385 sounds like some sketchy ebay purchase there.


Overall:
Quality:
10.0
Ergonomics:
10.0
Value:
9.0
Knife:

Hinderer Knives XM-18


Review by:

DrOpPoInT1110


04/09/2012
Price: $575.00
Use: Every Day Carry
Time Owned: Less than 1 Month

Comments:


Let me start right off the bat by saying this is my favorite folding knife hands down...and I have owned MANY different folders. However, I feel its important to note one major factor before I move on to the actual knife. This knife (and any Hinderer knife) is pretty hard to get. These knives are only sold directly from the manufacturer to law enforcement, EMT/EMS, military etc. All other sales are conducted through various dealers. Unless you are in one of the previously listed categories, you must pay secondary market prices which usually average around $700 . That being said, you can, on occasion, get a good deal as I did but it is VERY hard to come by a price below $650. Anyway, on to this incredible piece.

Prior to purchasing my XM-18, I carried mostly a Chris Reeve Sebenza or a Strider SnG. Both of them are great but to me, the XM-18 takes the impeccable fit and finish of a Chris Reeve piece and melds it with the pure ruggedness and tough styling of a Strider. While it may not look "elegant" to most people, the XM-18 is truly a beautifully crafted piece of functional art. There is not one single piece out of place or improperly aligned on my XM. it feels amazing in-hand and does so in a variety of grips. Both a flipper and non-flipper version are available but I personally enjoy the flipper but it's really just preference. Both however, lock up like bank vaults. ZERO blade play in any direction. It opens smooth as butter and doesn't feel gritty at all. In addition, every bit of the knife is over-built and tough as nails. Not to mention every piece(even the hardware)is built right in the U.S.A. (Ohio). Overall, this is just an unreal knife. If you have the opportunity and funds to purchase one, I highly recommend you do so. To me, this is the ultimate in modern tactical-style folders.
Reply by: Nick 11/13/2012
Nice review, $700 sounds really really good for a hinderer, cos in Australia they cost $1400!!!!