Byrd by Spyderco Robin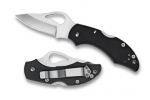 View More Pictures
Overall:
Quality:
7.0
Ergonomics:
9.0
Value:
10.0
Overall:
Quality:
7.0
Ergonomics:
9.0
Value:
10.0
Knife:

Byrd by Spyderco Robin


Review by:

Switchback


12/13/2009
Price: N/A
Use: Every Day Carry
Time Owned: Greater than 1 year

Comments:


This review is on the byrd Robin with FRN handles from Spyderco. I have really liked this little knife since the day I got it about 21 months ago. At about 3 1/4 inches closed, it is the perfect size for a light duty EDC. The 8Cr13MoV steel is better than average for edge retention but not exactly a super steel. I like it just fine for my needs. The blade opens and closes very easily with one hand and you can even flick it open with very little effort. Lockup is good for a knife in this price range. There is some lateral blade play but very minor. I bought this knife because of it's size and the way it looks. Very nice design and a great value for the price. I wanted something to replace my Kershaw Scallion because I began to dislike the assisted opening feature on the Scallion. This byrd Robin is the perfect replacement. Overall it's a really nice little knife and I'm glad I bought it. Mine has seen a good amount of light usage since I got it and it's still in great shape. I have a SS handled Robin on my Christmas wish list. With any luck, I will have one those soon also. If you're on the fence about getting a Robin. Just do it. The price is right and you're sure to like it.