Byrd by Spyderco Cara Cara 2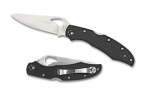 View More Pictures
Overall:
Quality:
9.0
Ergonomics:
8.7
Value:
9.7
Overall:
Quality:
7.0
Ergonomics:
7.0
Value:
9.0
Knife:

Byrd by Spyderco Cara Cara 2


Review by:

Marcelus wallace


01/31/2013
Price: $18.00
Use: Light Duty/General
Time Owned: 6 months

Comments:


Nice knife, good size for most tasks, acceptable ergonomic,good blade. My knife came with metal dust inside the lock mechanism and the washers were damaged by this dust. The backlock sometimes failed, not by giving much strenght on the blade ,but because the ergonomic pressed my hand against the backlock lever.. my friend got a cut that could have been very serious. For me it's too big to carry as an EDC .. sometimes i carry in my backpack... and the backlock could be more strong sometimes the blade opens with less strenght that should
Overall:
Quality:
10.0
Ergonomics:
9.0
Value:
10.0
Knife:

Byrd by Spyderco Cara Cara 2


Review by:

Nike


05/09/2012
Price: $40.00
Use: Every Day Carry
Time Owned: 6 months

Comments:


I read in the Spyderco catalog "let byrd knives surprise you" and the byrd really surprise me!

What can I say - one of the best every day carry folder which i have. Two things for me are real cool and make this folder one of the best in it's category - the blade shape, extremely suitable for all king of tasks and the groove between blade and handle for index finger. Some people compare Cara Cara with Endura but Endura have not such groove which is extremely useful for every day uses

The steel is China, 8Cr13MoV analogical to Japanese AUS 8 with sharpening angle 20 which is however less durable but make blade more usable for fine works. The content of carbon however is high enough so the edge holding is surprisingly good.

The handle is ergonomic but not so much as Cold Steel Spartan for example. Thats why I pointed with 9

Unlike Spartan this is really handy big enough but not too heavy, clumsy and heavy folder. As i say - the best every day carry folder.

Solid lock, no blade play and all of this - for really affordable prise

So if you don't mind that your folder is China made - buy it and will be no regret
Overall:
Quality:
10.0
Ergonomics:
10.0
Value:
10.0
Knife:

Byrd by Spyderco Cara Cara 2


Review by:

Ed


06/02/2011
Price: $29.00
Use: Every Day Carry
Time Owned: Less than 1 Month

Comments:


What an outstanding knife! I own an Endura 4 and I truly favor the Cara Cara 2 G10 over it. Its ergo's feel great! With the CC2 (unlike the Endura), you have an additional handling option to choke up on the extra provided index finger groove, on the base of the blade. This groove allows finer handling for more detailed cutting & some safety for your fingers, when closing. The handle's ergonomics are awesome. However you hold it (fwd, reverse or choked up on the extra groove), all fingers are provided a comfortable place on the handle. The G10 handle provides a comfortable grip, similar to Byrd's Tenacious. The Tenacious is great, but the CC2 is more slender in grip width, giving it a tighter grasp & takes up less space in your pocket. The extra bottom groove by the blade and the thumb rest on top have decent jimping, offering a great feel for grip. The blade cuts like a laser, comes razor sharp. Nice polish and the edge is beautiful. Don't under estimate 8Cr13MoV! This steel is unbelievably sharp & much easier to sharpen, than other higher quality steels. For the size of this knife (overall: 8.5", closed: 4.75", blade: 3.75", edge: 3.19", weight: 4.25 oz) I've found the weight to be adequate. Thumbhole, lock-back indent and pocket clip(positional 4 way)were all greatly considered for ease of use and comfort. An excellent EDC (every day carry) & Defensive knife!
Reply by: Byman T 11/20/2013
I love the Cara Cara 2, but the two things I don't like is one, the clip sucks, it is too tall and gets caught easily, and two, made in China. Overall, I think it is a great knife. Keep up the good work Spyderco, for making the Byrd Cara Cara 2!!!


Reply by: Shad 12/08/2011
I just wanted to say thanks for your review of the Cara Cara 2! I like the Spyderco line, but this Cara Cara is so much cheaper, and I actually like the design better than the Endura.I wouldn't have looked at this knife very close without your review.Thanks for having an objective review!Shad