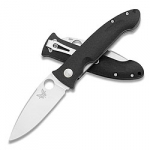 -Price Paid: $118.00
-Used for Every Day Carry
-Owned for Greater than 1 year
Comments:
Nine's all-around for the Benchmade Dejavoo. Personally, I've yet to experience the dreaded blade wiggle when open and I've two of these knives, plain blade and blackened.
The S30V come reasonably sharp and has the best heat treat I've seen for this grade of steel. The knife is smooooth...and though it might look to be a gentleman's folder, this baby has 4" of modern steel and can take on moderate jobs as well.
One of the best factory knives I have ever owned.
---
Comment by T Albert Biggs 04/01/2011
At first glance I thought the knife looked weird. But as soon as I held it I was a goner.The butt of the knife looks like a snake head kinda and I should have known they fit me the best.I does'nt have the index finger cutout like the 710 or 806 or tsek but they cost alot more and I went without an axis lock for many years to let that be a deal breaker for me.The handle fits my large hand perfectly. Top 5 smoothest knifes I have used. S30v hold edge a long time.No wiggle. LIner lock is strong. I cut daily Hay bale twine,leather,rubber tubes weekly and assorted carpenterand farm stuff everyday. Paid $112.00 for the knife a year ago and it is my favorite edc since then. Skinning slicing deer meat or in the kitchen with tomatoes potatoes onions and meat it is big enough to get the job done when only weighing 4.1 oz.Fits in pocket small and Benchmade sent me a black clip for free to help keep the shiny from prying eyes. Carried a 615 Mini Rukus for the three previous years and I like this DeJaVoo better. It just works for me. I like that it is not jimped up all over like some other knives.I have not had a rust or pitting problem and the g-10 never had to be roughed up. I like a smooth operater.I would rate this knife all 9's also. Con's. Can't move clip and tip down only.Well Good luck and