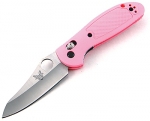 -Price Paid: N/A
-Used for Every Day Carry
-Owned for 3 months
Comments:
I bought one of these for my girl friend for EDC as a present, once she saw my benchmade, she wanted one of her own.
Its a great knife gift for a girl, that is, if shes into knifes and likes pink.
154cm is a pretty good steel in general, im not terribly fond of it. I had it on one of my HK snody benchmades and I dropped the knife, chipping the tip off. Maybe I am expecting too much, but i was surprised. Its a good steel over all though, it comes quite sharp from the factory. I cant speak of edge retention, but it seems decent. Opening action is smooth and crisp as all Axis knives are.
There is only one very minor thing I didnt like about the knife. At the bottom of the handle all the 556's ive seen have 2 small nubs left over from casting. Its not a huge deal by any means and is easy for fix with some light grit sand paper.
I wish this knife came with stainless steel full liners as the handle feels a little cheap and hollow. This problem is even worse on the full size griptillains. A reason I will never get one.
Over all its a good knife, and I do like it. I think the styling is really great, and if I got one I would opt for the no longer produced OD/BLK D2 version which can be found for a great price. I must add that I have larger size hands and find I can use this knife comfortably, something that surprised me.