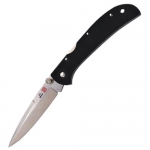 -Price Paid: N/A
-Used for Every Day Carry
-Owned for 3 months
Comments:
I was a bit hesitant to buy this knife as Al Mar seems to be less popular than some other brands in this price range; however, the fit and finish on this knife is the best of any knife I've ever bought in this price range! And I own a lot of knives! It's pinned construction and cannot be taken apart--not a deal breaker for me, but I think Al Mar should design this knife, so it can be taken apart by the user for cleaning. I'm rating this knife a 9 overall.
---
Comment by Keith 10/15/2016
UPDATE*My biggest, really only problem with this knife is that it is of pinned construction. I've recently learned via Sal Glesser of Spyderco that pinned construction allows a knife handle to be made thinner than screw construction. Al Mar's Eagle, Falcon and Hawk knives place a huge emphasis on being thin, hence, all these knives need to be thin, and if made with screws, would have much thicker handles. I nolonger have a problem with this knife's pinned construction; it is pretty much perfect for what it is and still made by the experts at Moki of Japan.