Spyderco Citadel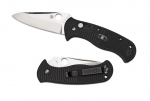 View More Pictures
Knife Type:
Folding
Locking Mechanism:
Auto
Blade Length:
92mm
Average Price:
$136.00
See Current Prices
Overall:
Quality:
Ergo:
Value:
Knife:

Spyderco Citadel


Review by:
08/03/2012
Price: $136.00
Use: Every Day Carry
Time Owned: 6 months

Comments:


It's not in the same quality standards as the Protech (PT) and Microtech (MT), but I feel it stands right alongside Benchmade (BM) for overall good value for the money spent. The release is not real quick, but quick enough to know it has been deployed with authority. The blade lock-up is excellent, better than the BM and on par with MT and PT. The surface is quite grippy, almost too much with bare hands - better with gloves. It is part of my EDC rotation. Good steel and other materials are top shelf, IMO. Not my favorite blade design, but it'll do...